Intelligent Mobile Disinfection Robot
The disinfection robot adopts a dry mist disinfection method. The dry mist will not settle or condense and drip.
Disinfect the surface of the object completely cut off the virus transmission route and be suitable for all kinds of indoor environments with or without people,
such asHospitals laboratories pharmaceutical factories schools factories units shopping malls airports stations high-speed rails subways hotels office buildings banks office buildings libraries stadiums smart park etc.

Notes: We are a professional manufacturer of spray nozzles. We produce and sell different types of nozzles for the industry, and we also provide customized types of spray nozzles. Factory price, High quality, Fast delivery.
In the era of intelligence, robots have become powerful assistants to help people solve many problems. Especially after the outbreak, mobile disinfection robots have attracted everyone's attention. The intelligent mobile disinfection robot is a mobile, multi-functional and intelligent disinfection equipment. It adopts ultrasonic atomization technology, uses dry mist spray disinfectant, and uses 360° no dead ends to release dry mist, which can complete rapid disinfection of indoor spaces. , It has the characteristics of small particles, non-adhesion, ultra-quiet, and can be widely used in hospitals, offices, laboratories, schools, business halls, hotels, hotels, stations, airports and other public places.
Product Description
The liquid storage capacity of the new generation of disinfection robot is 30L.Using lithium batteries (48V50A), a full charge can last for 5 hours, combined with the Internet of Things technology, it can autonomously navigate and cruise at a fixed point, the moving speed is 0~0.5m/s, and the disinfection efficiency is 30m2/min.The disinfection efficiency is very high, the working noise is small, the safety measures are good, and it has a mechanical anti-collision shell and an obstacle detection sensor.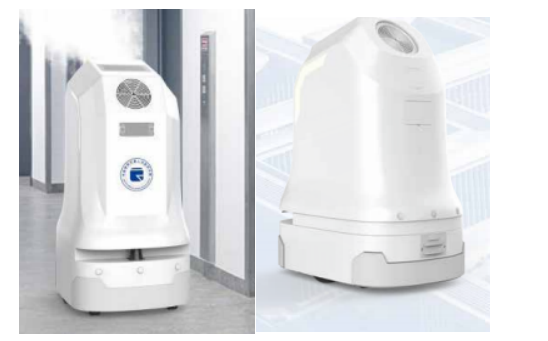 Features
* Smart disinfection:
This product adopts ultrasonic atomization disinfection method, has the characteristics of small particles, no adhesion, ultra-quiet, safety and environmental protection, and is suitable for air disinfection and surface disinfection in public places. The disinfection mode, disinfection intensity, disinfection time, disinfection frequency, coverage area, etc. are fully controllable.
*Autonomous navigation
This product has independent mapping, positioning and navigation functions, and can edit and manage disinfection areas, cruise paths, and cruise points. The area coverage disinfection path can be automatically planned in the designated area, and the work process does not require human assistance.
*Fixed-point cruise
This product allows users to preset several cruise points on the map to constrain the robot's disinfection path and range. In this state, the robot will reciprocate cruise disinfection between various cruise points.
*Automatic recharge
When the power of this product is too low (less than 10% of the total power), it will automatically find a charging station for docking charging. After charging, the product automatically returns to working status and continues to perform unfinished tasks
*Timed task
The user can preset the work area and work time, and the robot will go to the work area to automatically perform the disinfection operation at the specified time.
Application
The disinfection robot adopts a dry mist disinfection method. The dry mist will not settle or condense and drip. These properties of dry mist make it possible to obtain good disinfection effects in corners that were difficult to reach in the past, and the operation time is short, and air disinfection can be performed simultaneously. Disinfect the surface of the object, completely cut off the virus transmission route, and be suitable for all kinds of indoor environments with or without people,such as,Hospitals, laboratories, pharmaceutical factories, schools, factories, units, shopping malls, airports, stations, high-speed rails, subways, hotels, office buildings, banks, office buildings, libraries, stadiums, smart parks,etc.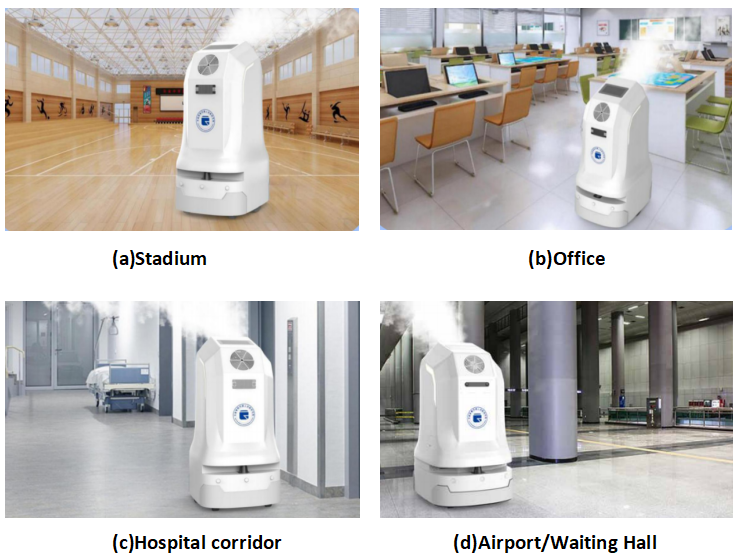 Specification & Features
| | |
| --- | --- |
| Product Number | R2021 |
| Brand Name | Mistec |
| Dispenser Colour | White and light gray |
| Dimensions | L693 * W490 * H956 (mm) |
| Endurance | 5h battery life per charge(Automatically recharge when the battery is less than 10%) |
| Guidance method | Laser navigation, visual navigation |
| Way of walking | Walking mode: Rotate on the spot, straight forward, backward, turn left and right |
| Operating mode | Autonomous navigation, fixed-point cruise |
| Moving speed | 0 ~ 0.5m/s (0.2 ~ 0.3m/s during disinfection operation) |
| Disinfection efficiency | 30m2/min |
| Liquid storage volume | 30L |
| Working temperature | 0°C ~ 50°C |
| Accessories | 2pcs stickers, 1pc opening key, 1pc tray, mannual |
| Working noise | ≤ 60dB |
| Safety measures | Mechanical anti-collision housing + front obstacle detection sensor + emergency stop button |
| Carton size & gross weight | 64*42*33.5CM, 16KG |
With the development of Internet technology and artificial intelligence, a new generation of mobile disinfection robots, in order to eliminate indoor and outdoor air and surface microorganisms (bacteria, viruses), adopts a circular grid nozzle design and a built-in spray fan to make the spray The dry mist of the disinfectant is more uniform and has better dispersion. It can carry out deep disinfection of air and surface without dead corners, so as to realize high-efficiency disinfection. It has independent functions and can run autonomously. The robot has an independent suspension mechanism on the two driving wheels, so that the robot has better maneuverability and flexibility. New products and new technologies will certainly benefit mankind and contribute to the cause of human disinfection and health.
Q1: Are you a manufacturer ?
A: Yes. We are an IS09001:2015 Certified factory with 10 yrs in nozzle manufacturing and design.
( 1 hour's flight from Hongkong, 30 minute's bus ride from Shenzhen / Guangzhou Airport )

Q2: How long is your delivery time, Packing & Shipping?
A: Delivery time:
(1).3 workdays for nozzles in stock.
(2).7-10 workdays for existing model but out of stock.
(3).15-25 workdays for casting models.
(4). Production Capacity: 10000pcs per day.
Packing & Shipping:
Packed in firm plastic box then inner box, master carton. Pallets or OEM packing available.
Shipped by FEDEX,DHL,TNT,UPS , Sea and Air transportation. 3-5 days delivered to the worldwide.

Q3: Do you provide free samples?
A: Yes, Free samples are available with bill shipping charges to receiver.

Q4: What is your payment terms?
A: T/T 100% in advance, or 30% deposit plus 70% balance before shipment.

Q5:Do you support customized nozzles?
A:Yes. We do.
We support customization and produce nozzles according to customers' requirements.

Q6: Will my drawings be divulged to the third party if you put it into production?
A:No, It won't .
we pay great attention to protecting our customers' privacy of drawings. Signing NDA is also accepted if required.

Our advantage:
High quality products at competitive price
Fast delivery and customer-oriented service
Excellent ability to design or custom-tailor
Vast experience to guide the applications

Get In Touch
Any nozzle questions ?Please Contact us.
If you have any questions about our products and service, Please kindly fill in the following form and we will contact you shortly.
Other Products In The Same Category: