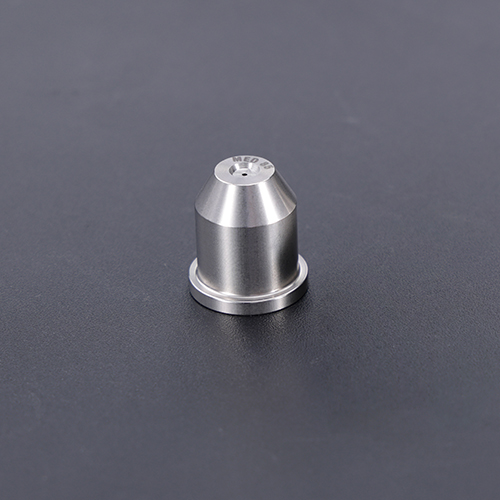 Misting Nozzle with Full or Hollow Cone for 3 in 1 Electrostatic Disinfection Sprayer
Design Features:
1. Item: misting nozzles
2. Spray Pattern: Full Cone, Hollow Cone...
3. Spray Angle: 60°80°
4. Droplet size(SMD, μm):65,80,160
5. Flow rate(ml/min):120ml/min@6bar, 450ml/min@5bar, 850ml/min@4bar
6. Capacity: 65,85,180 microns
7. Material: stainless steel and brass
8. Application:disinfectants cleaning solutions deodorizers,Backpack sprayers,others
9. Made of stainless steel, strong and corrosion resistant.
Notes: We are a professional manufacturer of spray nozzles. We produce and sell different types of nozzles for the industry, and we also provide customized types of spray nozzles. Factory price, High quality, Fast delivery.

Multiple Spray Pattern Misting Nozzles uses Full Cone, Hollow Cone and other spray designs and can be as large as 65,85,180 microns.Typically Misting Nozzles are a set of three Misting Nozzles used on disinfection equipment, especially Backpack Sprayer.Misting Nozzles was basically made of stainless steel.
For some sprayers, in order to suitable for a variety of different applications, some 3 in 1 adjustable nozzle selector are designed. There are multi-nozzles with different flow rates, spray distance and droplets size assembled on the spray tip. The 3 in 1 adjustable nozzle selector allows you to choose from multiple spray patterns, the user can get three different functional modes when twisting the nozzle to select between Low, Medium, and High.
Feature of The 3 in 1 Misting Nozzles
1. Different misting nozzles with different spray pattern to match different application.
2. Space-saving design
3. Misting nozzles available in stainless steel and brass
4. The low setting sprays 65 microns, the medium setting sprays 80 microns away and the high setting sprays 160 microns. This misting nozzles kit contains a hollow cone spray nozzle sat at 65 microns and 2 full cone nozzles set at 80 and 160 microns.
5.Misting nozzles ideal for used with water soluble disinfectants, cleaning solutions, deodorizers
6.Misting nozzles compatible with Backpack sprayers.
Performance Data
Model Code
Spray
angle (°)
Flow rate
(ml/min)
Droplet size
(SMD, μm)
Spray distance (cm)
TX-1.5
80
120ml/min@6bar
65
150
TG-0.4
60
450ml/min@5bar
85
200
TG-1.0
60
850ml/min@4bar
160
300
Typical Application in Disinfection and Sterilization
The nozzles mentioned above with different spray performance are specially machined according to designing idea of 3 in 1 sprayer. Together with the delicately designed selector, they can be compatible with hand-held sprayer or back pack sprayer for residential and commercial disinfection and sterilization. Different selection of nozzle with three types correspond to three different functional modes of the selector: Low, Medium, and High.
Mode Low
The TX-1.5 nozzle selected for this mode to produce 65 microns tiny fog with low flow rate. The soft mist has good dispersion and ability of adhesion, suitable for disinfection for indoor applications, such as home and office, etc.
Mode Medium
The TG-0.4 nozzle selected for this mode to produce 80 microns tiny mist with medium flow rate. The stronger mist has longer spray distance and bigger flow rate, therefore better wind resistance, suitable for disinfection for semi open areas, such as library, shopping mall, waiting hall, etc.
Mode High
The TG-1.0 nozzle selected for this mode to produce 160 microns coarse mist with relatively high flow rate. The strong mist has longest spray distance and biggest flow rate, therefore best wind resistance, suitable for disinfection or watering for outdoor applications.
The misting disinfection nozzle can be used for multiple spray models of different droplet sizes, which is very good for the use of electrostatic spray equipment.Very fine misting droplet sizes can be well attached to the surface of objects and a larger area of coverage. This 3 in 1 misting nozzle Often used to electrostatic sprayer which suitable for fumigation of hotels, hotels, shopping malls, restaurants, homes; disinfection; disinfection of schools, theaters and other public places, cars, trains.

Related Knowledge Points
The misting nozzle is a device that can atomize the liquid and evenly suspend it in the air.the working principle of misting nozzle is through the internal pressure, the internal liquid extrusion into the nozzle, and through the nozzle outlet ejected.
Q1: Are you a manufacturer ?
A: Yes. We are an IS09001:2015 Certified factory with 10 yrs in nozzle manufacturing and design.
( 1 hour's flight from Hongkong, 30 minute's bus ride from Shenzhen / Guangzhou Airport )

Q2: How long is your delivery time, Packing & Shipping?
A: Delivery time:
(1).3 workdays for nozzles in stock.
(2).7-10 workdays for existing model but out of stock.
(3).15-25 workdays for casting models.
(4). Production Capacity: 10000pcs per day.
Packing & Shipping:
Packed in firm plastic box then inner box, master carton. Pallets or OEM packing available.
Shipped by FEDEX,DHL,TNT,UPS , Sea and Air transportation. 3-5 days delivered to the worldwide.

Q3: Do you provide free samples?
A: Yes, Free samples are available with bill shipping charges to receiver.

Q4: What is your payment terms?
A: T/T 100% in advance, or 30% deposit plus 70% balance before shipment.

Q5:Do you support customized nozzles?
A:Yes. We do.
We support customization and produce nozzles according to customers' requirements.

Q6: Will my drawings be divulged to the third party if you put it into production?
A:No, It won't .
we pay great attention to protecting our customers' privacy of drawings. Signing NDA is also accepted if required.

Our advantage:
High quality products at competitive price
Fast delivery and customer-oriented service
Excellent ability to design or custom-tailor
Vast experience to guide the applications

Get In Touch
Any nozzle questions ?Please Contact us.
If you have any questions about our products and service, Please kindly fill in the following form and we will contact you shortly.
Other Products In The Same Category: