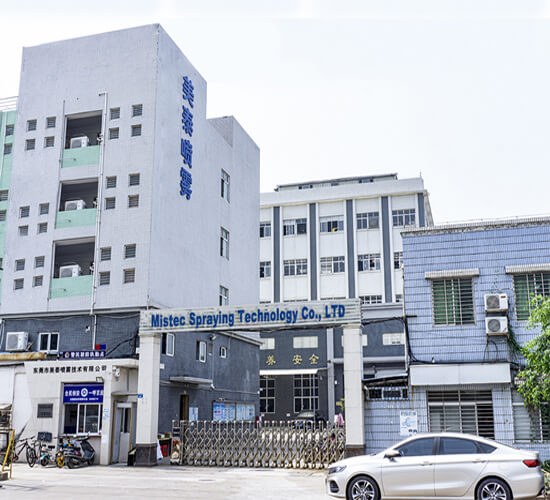 Mistec Spraying Technology Co., LTD
Mistec is a professional manufacturer focus on spray technology, offering quality products and value-added service to our customers in the industry.
Mistec is a technology driven company, whose core staff are experts in respective fields with years of experience. As an ISO 9001: 2015 registered company, Mistec have built up a complete management system. All the procedure from manufacturing, designing, testing to selling, we strictly follow the ISO requirements. Professional people and high-level management system lead to high quality products.
Whatever your application, we can assist you in choosing the correct spray nozzle. Our complete selection includes thousands of products, from general purpose nozzles, such as flat fan nozzles, full cone nozzles, hollow nozzles, air atomizing nozzles, to customer-tailor made products.

Our advantage:
High quality products at competitive price
Fast delivery and customer-oriented service
Excellent ability to design or custom-tailor
Vast experience to guide the applications
Let's help you find the right solution to your problem.

Advanced production equipment
Complete production system is the guarantee of product delivery ability.
Mistec Spray has a strong technical and processing team, high precision imported processing equipment, strict quality concept and pursuit, perfect testing ability and quality management process.
Flexible production systems enable rapid delivery while ensuring quality.
Rich experience in customized development of various products.
Produced by Mattel, it must be a fine product!
Design and Research
Professional technical team and profound accumulation are the guarantee of design ability.
The main technical team members of Mistec Spray have more than 8 years of experience in nozzle industry.Long-term focus on high quality design and development.
Maintain good relations with universities and research institutes in related fields and carry out a range of technical cooperation and research.
Qualifications and Patents
The company has passed the ISO9001:2015 quality system and ISO14001:2015 environmental system certification.
And has a number of spray products patents.
Strictly follow ISO process requirements, establish traceability system for outgoing products, file for each customer's products, and maintain safety stock.
Advanced test equipment
Complete test condition is the basic guarantee of quality and development ability.
Mistec Spray has a complete testing equipment and testing process, a team of professional personnel, a large number of test data accumulation.
It is able to perform complete tests on various ranges of spray flow, Angle, flow distribution, particle size distribution and spray speed.
Mattel Spray products are 100% tested!