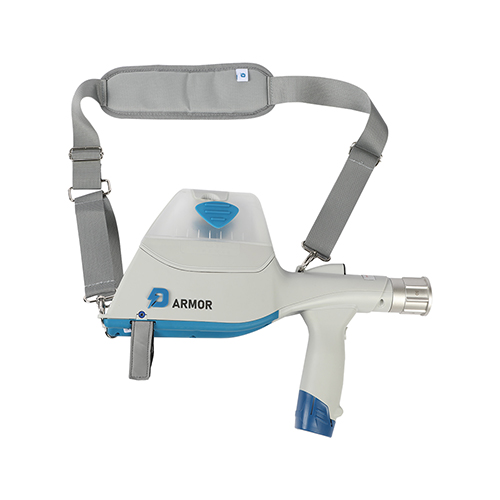 Electrostatic Hand-Held Smartsprayer
4-in-1 Polycarbonate Tool Free Nozzle
Variable fluid flow rate reducing costly overspray
Longer Battery Life Faster Recharge
High-performance lithium-ion battery to get the job done quicker
Ergonomic Design
Unmatched comfort and usability over long periods of deployment
Self Cleaning
Rapid fluid return click cleaning function equals longer product life
Engineering
A rugged build for any and every application
Fluid Use
Tank volume: 45 fl. oz.
Dispersal rate: Variable
50 micron – 4 oz. per minute
80 micron – 6.75 oz. per minute
110 micron – 9.5 oz. per minute
Notes: We are a professional manufacturer of spray nozzles. We produce and sell different types of nozzles for the industry, and we also provide customized types of spray nozzles. Factory price, High quality, Fast delivery.
The design provides unparalleled comfort and helps deploy more efficiently across all tasks.
To align with our flat hierarchy low cost and high profit strategy we have implemented a sales recommendation program. This allows the management team to leverage our technology and system efficiencies to quickly build sales in a fast and controlled manner without the need for a dedicated internal sales force which increases the firm's fixed costs

Future personnel needs:
Further direct customer feedback and market analysis will determine whether an account manager needs to be hired to provide professional services and support to companies with threshold order size or technical prerequisites.

4-in-1 Polycarbonate Tool Free Nozzle
Variable fluid flow rate, reducing costly overspray
Longer Battery Life Faster Recharge
High-performance lithium-ion battery to get the job done quicker
Ergonomic Design
Unmatched comfort and usability over long periods of deployment
Self Cleaning
Rapid fluid return & 1-click cleaning function equals longer product life.
Engineering
A rugged build for any and every application

Materials
Internal 45 fluid oz advanced polymer quick release tank with best in class corrosion
Polycarbonate composite shell
Aerospace grade TPR polymer reinforced gun undercarriage
Convenient aluminium & polycarbonate no tool 4-in-1 twist micron size adjustor
Ballistic grade nylon & high grade memory foam adjustable, arm strap

Electrostatic Hand-Held Smartsprayer with electrostatic cleaning technology, the first market smart sprayer and spray tracking mobile work accountability technology, put control in your hands to disperse the most effective liquid possible.
The rugged, but smooth ergonomic design of the armor provides unparalleled comfort, making it more efficient to deploy in all tasks.
Each System Includes
1 x ARMOR Electrostatic HandHeld SmartSprayer™
1 x 45 liquid oz tank
2 x 3,000mAh 10.8 - 12V lithium-ion battery
1 x Battery charger
1 x Memory foam adjustable shoulder strap
1 x Gun case
| | | | |
| --- | --- | --- | --- |
| WEIGHT | CAPACITY | POWER | WARRANTY |
| 2lbs (4.8lbs wet) | 45 liquid oz | 3,000 mAh | 1 yr + service plan |
| | | | |
| --- | --- | --- | --- |
| NOZZLE SETTING | 50 MICRONS | 70 MICRONS | 90 MICRONS |
| Flow Rate | 4 oz/min | 5.9 oz/min | 7.7 oz/min |
| Run time/tank | 10 minutes | 5.25 minutes | 3.4 minutes |
| Tanks/charge | 24 tanks | 35 tanks | 45 tanks |
| Coverage/tank | 3,330 sq ft | 2,330 sq ft | 1,525 sq ft |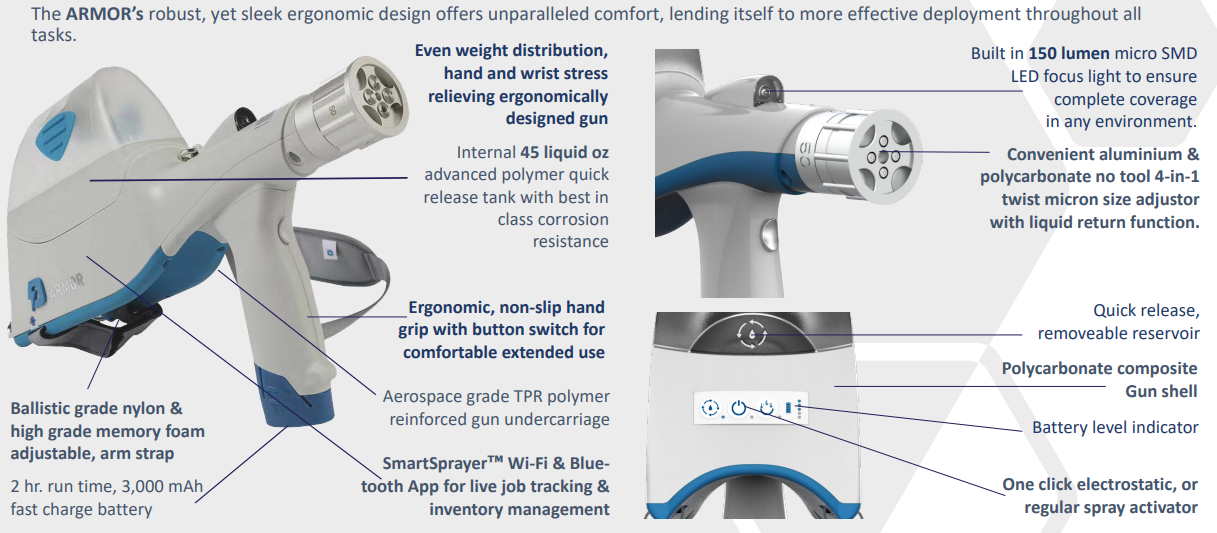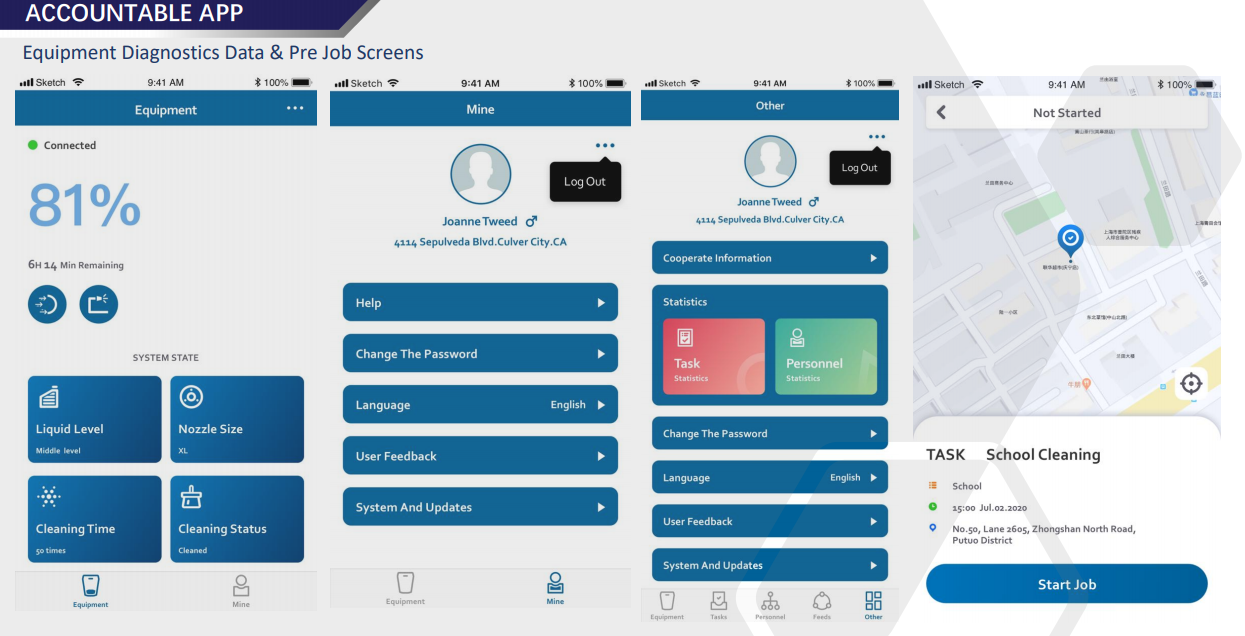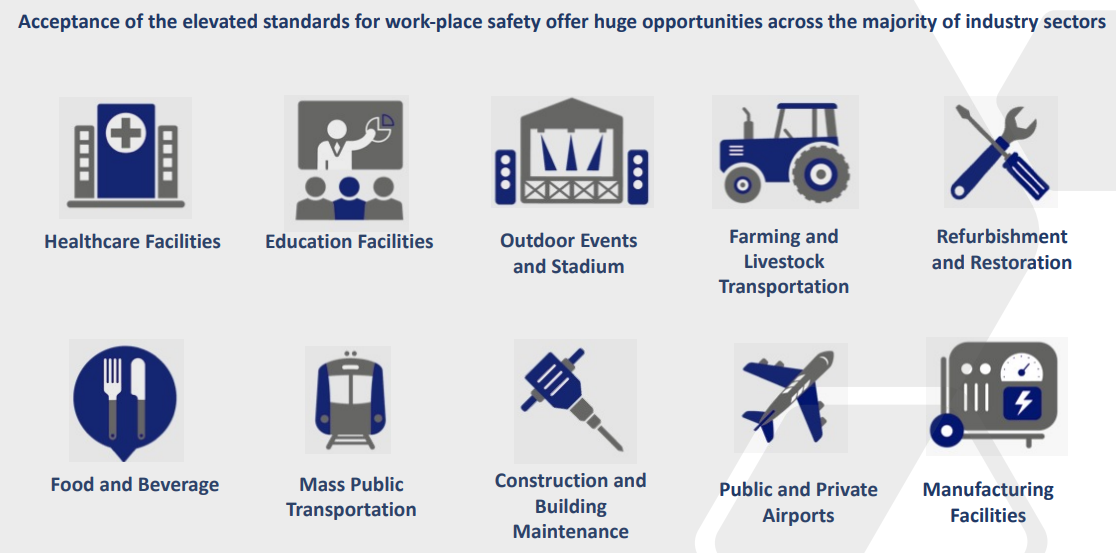 Q1: Are you a manufacturer ?
A: Yes. We are an IS09001:2015 Certified factory with 10 yrs in nozzle manufacturing and design.
( 1 hour's flight from Hongkong, 30 minute's bus ride from Shenzhen / Guangzhou Airport )

Q2: How long is your delivery time, Packing & Shipping?
A: Delivery time:
(1).3 workdays for nozzles in stock.
(2).7-10 workdays for existing model but out of stock.
(3).15-25 workdays for casting models.
(4). Production Capacity: 10000pcs per day.
Packing & Shipping:
Packed in firm plastic box then inner box, master carton. Pallets or OEM packing available.
Shipped by FEDEX,DHL,TNT,UPS , Sea and Air transportation. 3-5 days delivered to the worldwide.

Q3: Do you provide free samples?
A: Yes, Free samples are available with bill shipping charges to receiver.

Q4: What is your payment terms?
A: T/T 100% in advance, or 30% deposit plus 70% balance before shipment.

Q5:Do you support customized nozzles?
A:Yes. We do.
We support customization and produce nozzles according to customers' requirements.

Q6: Will my drawings be divulged to the third party if you put it into production?
A:No, It won't .
we pay great attention to protecting our customers' privacy of drawings. Signing NDA is also accepted if required.

Our advantage:
High quality products at competitive price
Fast delivery and customer-oriented service
Excellent ability to design or custom-tailor
Vast experience to guide the applications

Get In Touch
Any nozzle questions ?Please Contact us.
If you have any questions about our products and service, Please kindly fill in the following form and we will contact you shortly.
Other Products In The Same Category: