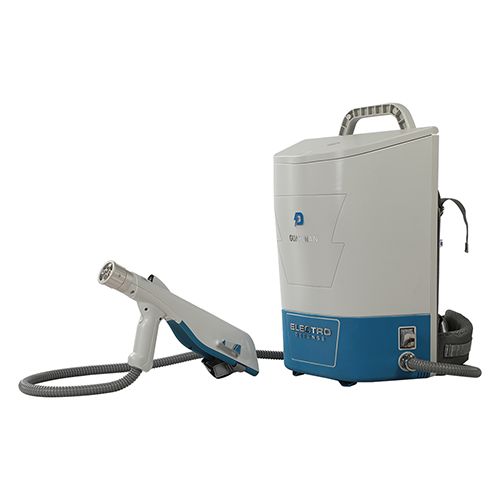 Backpack Electrostatic Sprayer
Electrostatic technology longer-lasting batteries world-class design and innovative software integration make Hybrid Backpack the most cost-effective disinfectant diffusion system providing more controlled applications that ultimately leave everyone with safer spaces and a cleaner environment.

Fluid Use
Tank volume: 2.25 gallons
Dispersal rate: Variable
40 micron – 3.4 oz. per minute
80 micron – 5.1 oz. per minute
110 micron – 13.4 oz. per minute

Coverage: Up to 25000 sq feet per tank
Battery life: 4 hours (90-minute recharge)

Weight (empty): 15 lbs
Weight (full): 33 lbs
Notes: We are a professional manufacturer of spray nozzles. We produce and sell different types of nozzles for the industry, and we also provide customized types of spray nozzles. Factory price, High quality, Fast delivery.
Backpack Electrostatic Sprayer our unique, electrostatic technology, as well as the first market enhancements.
Our ergonomic, Italian design provides unparalleled comfort, ensuring fast, easy-to-use, efficient and continuous liquid deployment on all missions.
The German project ensures a highly robust, reliable and efficient unit ready to do any work without interruption. Our sprayers not only feature the top quality units you'd expect, but also offer unprecedented advantages, such as our uniquely developed fast one-click assembly line flush buttons that reduce proper maintenance from 20 minutes to 20 seconds, and quickly release/connect wheels and retractable handles instead.
We also eliminate outdated and wasteful drainage and manual cleaning procedures by combining an unused liquid return function. When the task is complete, simply press the switch to return the liquid from the water tank to the original container, and then press the button to flush the remaining liquid.
There is no confusion. There is no waste. No fuss.
Materials
Polycarbonate composite shell
Aerospace grade TPR polymer reinforced gun undercarriage
Convenient aluminium & polycarbonate no tool 4-in-1 twist micron size adjustor
Ballistic grade nylon & high grade memory foam adjustable, arm strap
Full Specification

Product Design, Construction & Material Selection
1. Detachable wheels and retractable handle for alternative ground use.
2. Self-cleaning function
3. Unused liquid return function
4. No-tool adjustable nozzle 3 in 1 spray settings
5. Integrated dual filtration system
6. Highly robust anodized and galvanized metal contact points
7. Advanced high corrosion resistant, polymer tank
8. Multifunctional splash guard protector with tank light
9. Efficient performance 150 lumen gun LED COB
10. liquid proof, secure phone storage
11. Evenly weighted unique gun design relieves wrist and arm stress
12. High grade memory foam lumbar support
13. Trigger lock mechanism for extended use

Each System Includes
1 x GUARDIAN Electrostatic Backpack Smart Sprayer
1 x 2.25 liquid gallon tank
2 x 6,000mAh lithium-ion battery
1 x battery charger
1 x Gun case

| | | | |
| --- | --- | --- | --- |
| WEIGHT | TANK CAPACITY | POWER | WARRANTY |
| 20.5lbs (40lbs wet) | 1 or 2.25 Gal | 6,000 mAh | 1 yr + service plan |
| | | | |
| --- | --- | --- | --- |
| NOZZLE SETTING | 50 MICRONS | 70 MICRONS | 90 MICRONS |
| Flow Rate | 4 oz/min | 6.91 oz/min | 7.8 oz/min |
| Run time per tank | 71 minutes | 37.2 minutes | 24.5 minutes |
| Tanks Per charge | 3.4 tanks | 4.9 tanks | 6.5 tanks |
| Coverage per tank | 25,000 sq/ft | 17,500 sq/ft | 11,450 sq/ft |
Backpack Electrostatic Sprayer Details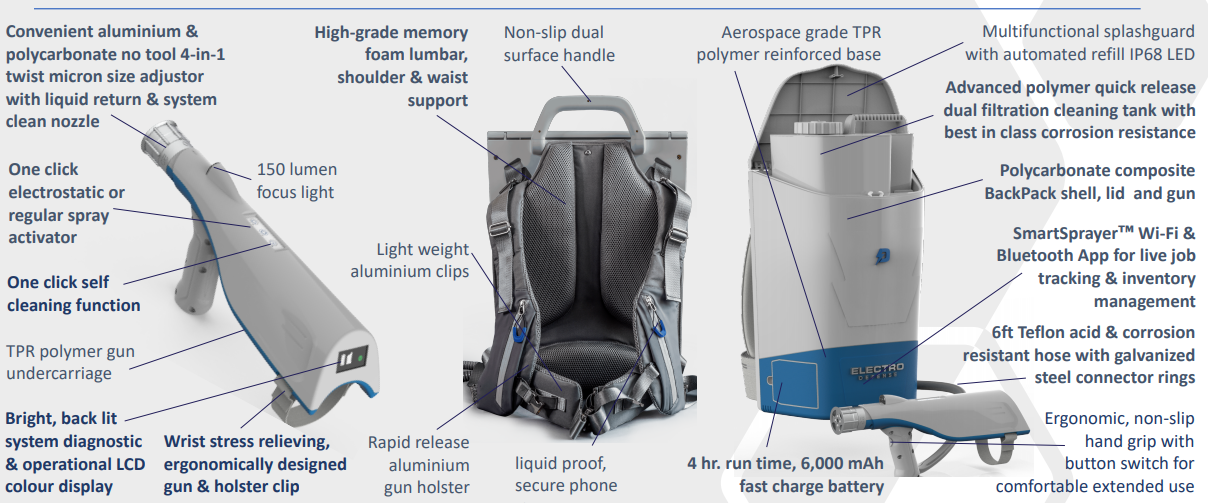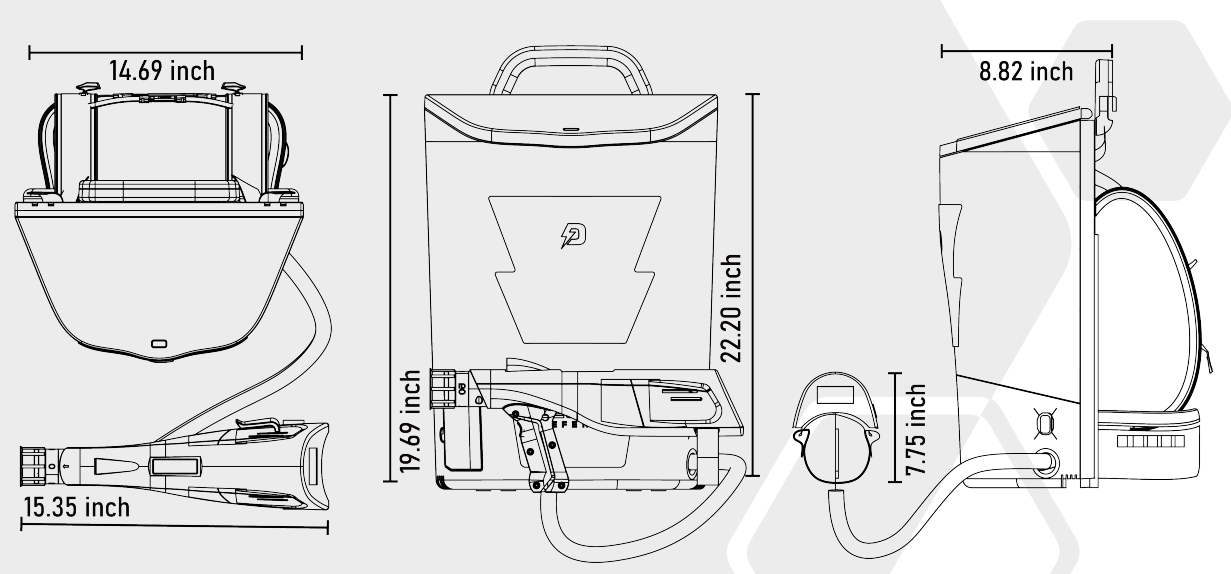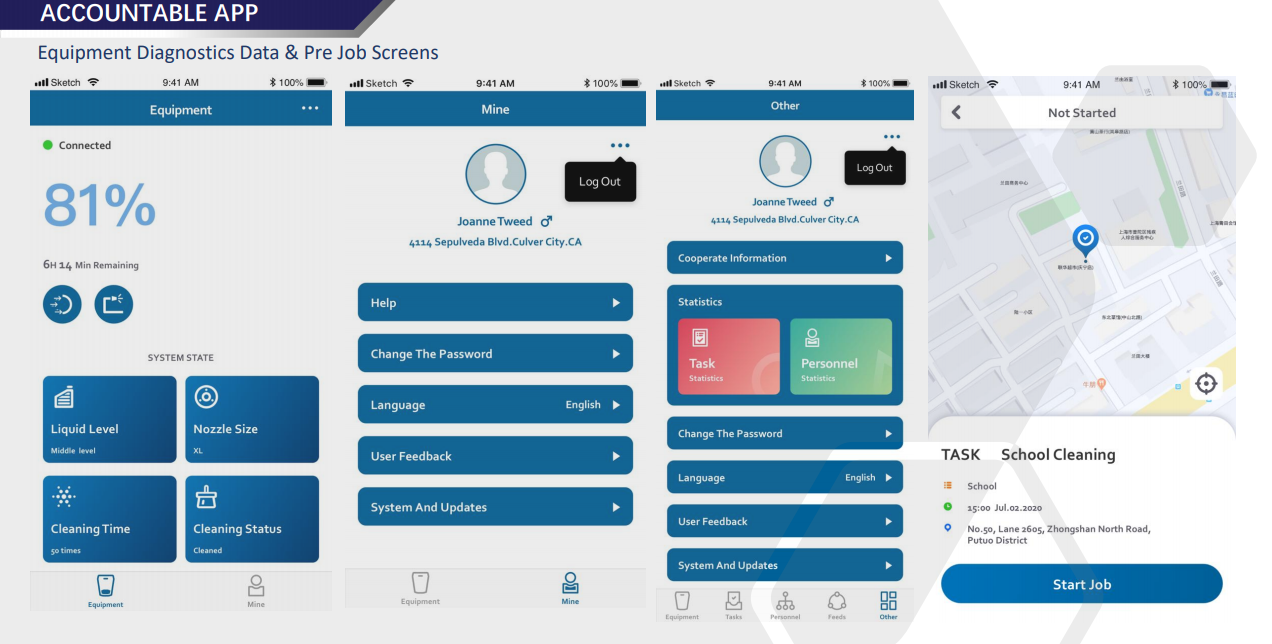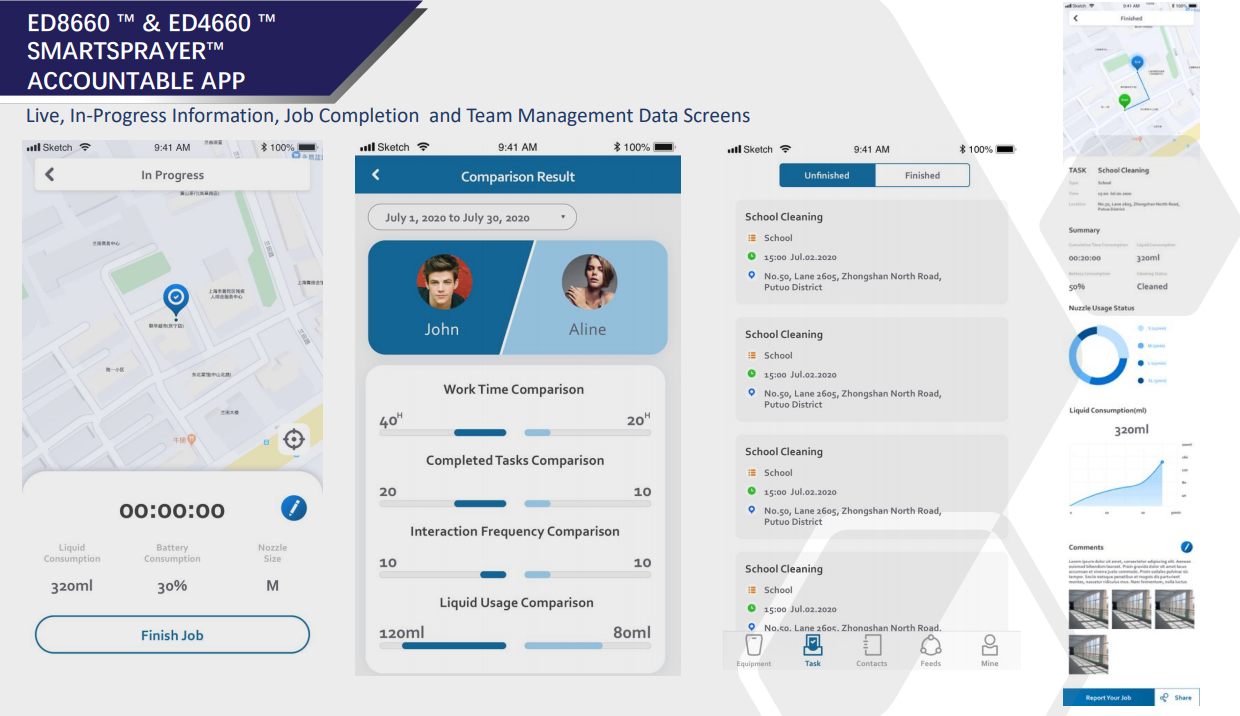 Q1: Are you a manufacturer ?
A: Yes. We are an IS09001:2015 Certified factory with 10 yrs in nozzle manufacturing and design.
( 1 hour's flight from Hongkong, 30 minute's bus ride from Shenzhen / Guangzhou Airport )

Q2: How long is your delivery time, Packing & Shipping?
A: Delivery time:
(1).3 workdays for nozzles in stock.
(2).7-10 workdays for existing model but out of stock.
(3).15-25 workdays for casting models.
(4). Production Capacity: 10000pcs per day.
Packing & Shipping:
Packed in firm plastic box then inner box, master carton. Pallets or OEM packing available.
Shipped by FEDEX,DHL,TNT,UPS , Sea and Air transportation. 3-5 days delivered to the worldwide.

Q3: Do you provide free samples?
A: Yes, Free samples are available with bill shipping charges to receiver.

Q4: What is your payment terms?
A: T/T 100% in advance, or 30% deposit plus 70% balance before shipment.

Q5:Do you support customized nozzles?
A:Yes. We do.
We support customization and produce nozzles according to customers' requirements.

Q6: Will my drawings be divulged to the third party if you put it into production?
A:No, It won't .
we pay great attention to protecting our customers' privacy of drawings. Signing NDA is also accepted if required.

Our advantage:
High quality products at competitive price
Fast delivery and customer-oriented service
Excellent ability to design or custom-tailor
Vast experience to guide the applications

Get In Touch
Any nozzle questions ?Please Contact us.
If you have any questions about our products and service, Please kindly fill in the following form and we will contact you shortly.
Other Products In The Same Category: