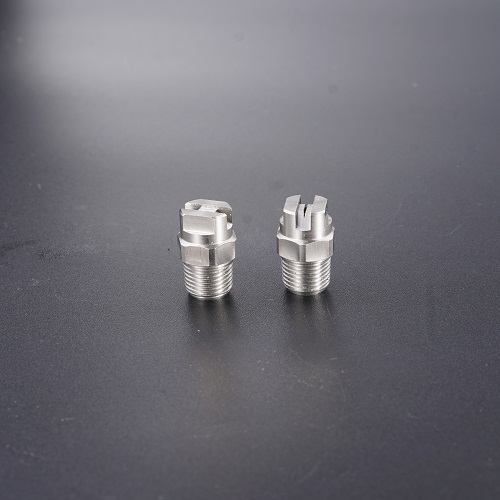 Flat Fan Pressure Spray Nozzles with Small Capacity for Disinfection
Design Features:
1. Spray pattern:Flat Fan
2. Liquid pressure: 3~7 bar
3. Flow rate: 0.13 ~0.7 L/min
4. Spray angle: 65 °(can be customized)
5. Droplet size: 40 ~80 microns
6. Material:303SS,Brass.PP
7. Connect: quick connection or thread connection
8. Made of stainless steel 304, strong and corrosion resistant.
Notes: We are a professional manufacturer of spray nozzles. We produce and sell different types of nozzles for the industry, and we also provide customized types of spray nozzles. Factory price, High quality, Fast delivery.
The flat fan spray nozzles have various choices in flow rate and spray angle. Most of flat fan spray nozzles are used for washing and cleaning applications due to the clear edge of the spray and concentration of the impact. But when the capacity of flat fan spray nozzle becomes small, the nozzles can produce small droplets even under low working pressures. In this case, the droplet size become tiny and spray become soft that make it a possible option for disinfection and sterilization. Because of the large coverage of flat fan nozzles and the flat fan spray pattern, they are very suitable for some disinfecting usage scenes.
Design Feature

1. Spray pattern:Flat Fan
2. Liquid pressure: 3~7 bar
3. Flow rate: 0.13 ~0.7 L/min
4. Spray angle: 65 °(can be customized)
5. Droplet size: 40 ~80 microns
6. Material:303SS,Brass.PP
7. Connect: quick connection or thread connection
Fan-shaped nozzle is a kind of spray shape for a variety of Angle fan-shaped nozzle.Finely-machined fan-shaped nozzle diversion planes provide a uniform, high-impact spray shape.Due to the influence of the earth's gravity, the "edge effect" will occur, that is, the fan-shaped section of the spray will produce gradually fine and uniform edge spray particles, and the spray particle size is medium. When multiple nozzles are arranged, 25%-30% overlap is required to make the arrangement in the whole direction uniform.
Typical Application in Disinfection and Sterilization

The small capacity flat spray nozzles are usually assembled on the sprayer for disinfectant spraying. Compared with the full cone or hollow cone spray pattern, the flat spray pattern can provide relatively large coverage of target objects, therefore a higher efficiency.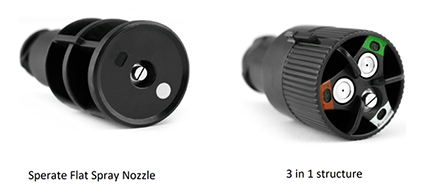 The flat fan spray nozzles can be designed as a sperate component for the sprayer, or together with the misting nozzles to form a 3 in 1 structure, just as shown below. Usually there is housing with quick connection for the nozzles for fast interchangeable operation to make it suitable for different usage scenarios
Connection methods
There are different connection methods for the flat nozzles to match different spray guns, according to customers' design ideas. We have rich experience in tailor-made products to meet customer's requirements.
Our flat fan types disinfecting nozzles are suitable for disinfection and sterilization systems,hand disinfection,work equipment disinfection,sole and boot cleaning,room disinfection,disinfection of work sluices,backpack disinfection sprayer, hand-held sanitizer sprayer, electrostatic sprayer which can be widely used for hotels, shopping malls, restaurants and homes, schools, theaters, cars, trains and other public places.

| | | |
| --- | --- | --- |
| 1. Thread connection | | 2. Quick connection with plastic housing |
| 1/4 BSPT/NPT, 1/8 BSPT/NPT available | | We are capable of designing the housing for customers, or produce the proper nozzles according to dimensions of the housing. |
For further request, please contact our sales engineer for more information.
Other Flat Fan Spray Nozzles

Spray Pattern: Flat Fan
Material: Stainless Steel, Brass, etc.
Working Pressure: 0.4 -35 bar
Spray Angles: 15 ° - 110°
Flow Rates: 0.06 - 790 L/min @ 3bar
Droplet Size:Medium to Coarse
Thread Size: 1/8",1/4",3/8",1/2",1",1-1/4",2"BSPT or NPT;
Applications: Washing & rinsing, Coating fabrics & steel siding, Moistening paper products, Fire protection / suppression, Chemical cleaning, High / low pressure cleaning, Cooling and quenching, Spray coating, etc.
● Also called Vee jet spray nozzle
● One-piece construction;
● No internal parts;
● Uniform distribution, high impact;
● Tapered flat fan design can produce even flow coverage over wide areas;
● Customized service: Custom nozzle designs are available upon request(OEM)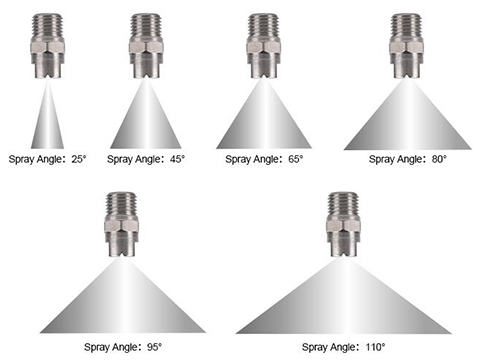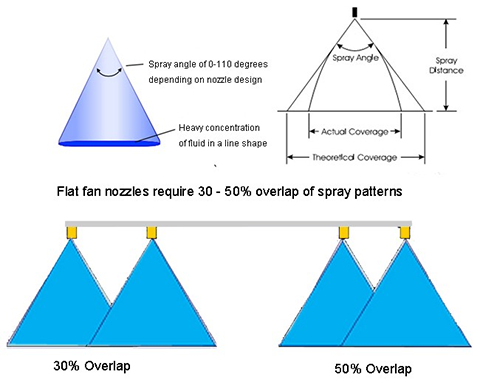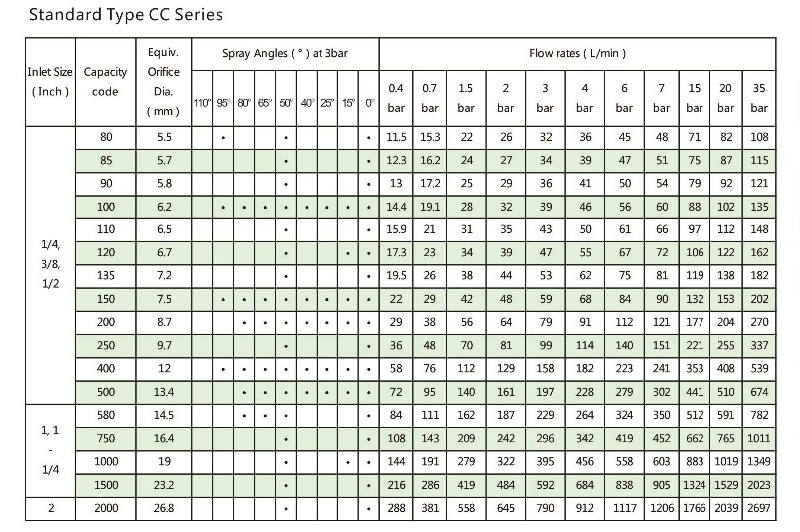 Q1: Are you a manufacturer ?
A: Yes. We are an IS09001:2015 Certified factory with 10 yrs in nozzle manufacturing and design.
( 1 hour's flight from Hongkong, 30 minute's bus ride from Shenzhen / Guangzhou Airport )

Q2: How long is your delivery time, Packing & Shipping?
A: Delivery time:
(1).3 workdays for nozzles in stock.
(2).7-10 workdays for existing model but out of stock.
(3).15-25 workdays for casting models.
(4). Production Capacity: 10000pcs per day.
Packing & Shipping:
Packed in firm plastic box then inner box, master carton. Pallets or OEM packing available.
Shipped by FEDEX,DHL,TNT,UPS , Sea and Air transportation. 3-5 days delivered to the worldwide.

Q3: Do you provide free samples?
A: Yes, Free samples are available with bill shipping charges to receiver.

Q4: What is your payment terms?
A: T/T 100% in advance, or 30% deposit plus 70% balance before shipment.

Q5:Do you support customized nozzles?
A:Yes. We do.
We support customization and produce nozzles according to customers' requirements.

Q6: Will my drawings be divulged to the third party if you put it into production?
A:No, It won't .
we pay great attention to protecting our customers' privacy of drawings. Signing NDA is also accepted if required.

Our advantage:
High quality products at competitive price
Fast delivery and customer-oriented service
Excellent ability to design or custom-tailor
Vast experience to guide the applications

Get In Touch
Any nozzle questions ?Please Contact us.
If you have any questions about our products and service, Please kindly fill in the following form and we will contact you shortly.
Other Products In The Same Category: