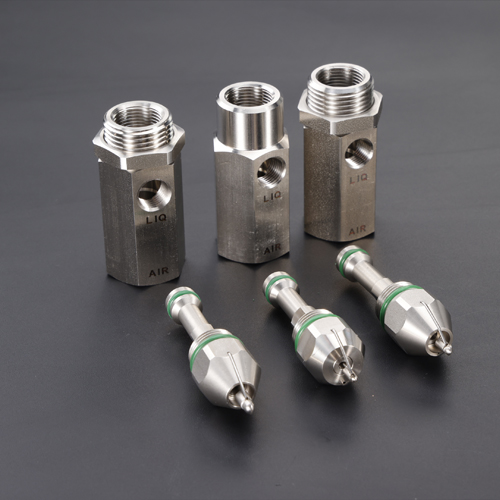 Dry Fog Misting Air Atomizing Nozzles
Spray angles: 30°~ 120°, affected by water/air pressure
Flow rate: 0.94L/H ~45L/H
Solid cone spray pattern with extremely fine article size at low air pressures
Droplet size:the droplet size is medium to large, and the pressure and flow can be applied widely.
Material:BRASS, SS, plastics (PP/PVC/PTFE) etc.
Connection:air 1/4 inch male BSPT/NPT; liquid 1/8 inch female BSPT/NPT .
Notes: We are a professional manufacturer of spray nozzles. We produce and sell different types of nozzles for the industry, and we also provide customized types of spray nozzles. Factory price, High quality, Fast delivery.
Our dry fog nozzle have a fine mist fog droplet sizes between 5 and 20 microns, wet mist fog between 20 and 30 microns, the ultrasonic dry fog nozzles between 1 to 10 microns.As a spray nozzles factory, we produce and sales multi sizes dry fog nozzle and air atomizing misting nozzles with factory price fast delivery high quality.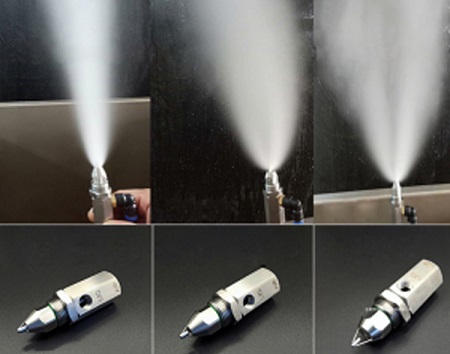 Mistec's high quality ultrasonic atomizer cuts water into very fine droplets, known as "dry fog", with droplet sizes ranging from 1 to 10 microns. Mechanical ultrasonic dry fog nozzles with well-designed resonators produce high frequency waves as compressed air passes through the nozzle's inner hole, at high speed through the converging/divergent portion and extend to the resonator,Reflected back in the resonator to complement and amplify the main shock
Therefore, the concentrated sound energy field between the nozzle body and the resonator cover is enhanced.
Any liquid that can be pumped into a shock wave is strongly sheared into droplets by the sound field.Air passes around the resonator and atomized droplets flow downstream to the soft plume zone.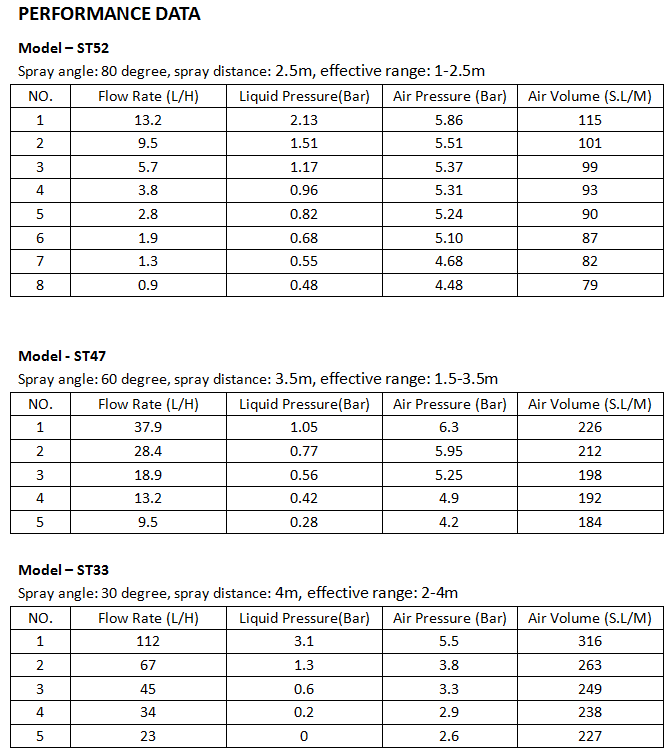 Application of the dry fog nozzles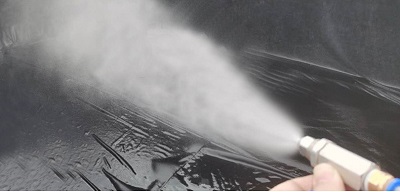 Dry fog suppression,Dust suppression spray box,Mold lubrication
Wool-spun spray humidification,Air disinfection
Liquid spray micro-addition
All kinds of production workshops, warehouses, factories, humidification, cooling
Object cooling
Disinfecting
Cooling of power plant and steelworks; humidification and cooling of high temperature and high humidity environment in brewing and food industry
Q1: Are you a manufacturer ?
A: Yes. We are an IS09001:2015 Certified factory with 10 yrs in nozzle manufacturing and design.
( 1 hour's flight from Hongkong, 30 minute's bus ride from Shenzhen / Guangzhou Airport )

Q2: How long is your delivery time, Packing & Shipping?
A: Delivery time:
(1).3 workdays for nozzles in stock.
(2).7-10 workdays for existing model but out of stock.
(3).15-25 workdays for casting models.
(4). Production Capacity: 10000pcs per day.
Packing & Shipping:
Packed in firm plastic box then inner box, master carton. Pallets or OEM packing available.
Shipped by FEDEX,DHL,TNT,UPS , Sea and Air transportation. 3-5 days delivered to the worldwide.

Q3: Do you provide free samples?
A: Yes, Free samples are available with bill shipping charges to receiver.

Q4: What is your payment terms?
A: T/T 100% in advance, or 30% deposit plus 70% balance before shipment.

Q5:Do you support customized nozzles?
A:Yes. We do.
We support customization and produce nozzles according to customers' requirements.

Q6: Will my drawings be divulged to the third party if you put it into production?
A:No, It won't .
we pay great attention to protecting our customers' privacy of drawings. Signing NDA is also accepted if required.

Our advantage:
High quality products at competitive price
Fast delivery and customer-oriented service
Excellent ability to design or custom-tailor
Vast experience to guide the applications

Get In Touch
Any nozzle questions ?Please Contact us.
If you have any questions about our products and service, Please kindly fill in the following form and we will contact you shortly.
Other Products In The Same Category: