The Comparison of Some Popular Electrostatic Backpack Disinfecting Sprayer in Market
As we know that most surfaces have a negative charge and the opposites attract. Electrostatic spraying adopts this theory exactly. Simply speaking, it just charges liquids as they pass through a nozzle. And the liquid actively seeks out surfaces, sticks to them, and even wraps around to coat all sides. This also means hard-to-reach corners and undersides of surfaces get disinfectant.
We have studied
electrostatic handheld disinfecting sprayers
previously. Hereby let's talk about some of the popular
electrostatic backpack disinfecting sprayers
in market. Despite the differences between them, they did have one thing in common. The electrostatic backpack disinfecting sprayers can store more disinfectant in one tank than handheld units. They're great for buildings larger than 5000 sq. ft, allowing users to cover larger areas faster. It is a perfect choice for school, hospital, church, station etc. disinfecting. Let's get to know them one by one.
There are several commonly used backpack sprayers in the market listed as following:
I. Victory cordless backpack sprayers
II. EMist backpack sprayers
III. EISolutions backpack sprayers
IV. Clorox backpack sprayers
V. Ryobi backpack sprayers
I. Victory cordless backpack sprayers
Victory Innovations is an American company that was founded to develop a patent pending cordless electrostatic sprayer delivery system in 2016. Even it is new, they did make very nice products. Their professional Cordless Electrostatic Backpack Sprayer is designed to allow the professional to cover up to 23,000 square feet on a single tank of fluid. Besides, they have features and advantages are as follows: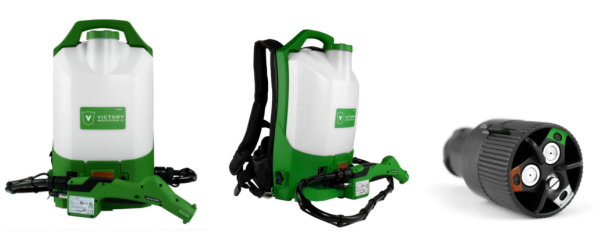 Features:
a) 16.8V 3400mAh Lithium-Ion battery and 16.8V charger.
b) 3 in 1 nozzle can achieve different misting requirements.
c) 2.25 gallon tank capacity.
d) 12inch Extension Wand
e) Compatible with any water soluble
Advantages:
a) Time and labor saving.
b) Less liquid, more surfaces covering.
c) Unique and patented technology provides effective and even coverage.
Features of the Nozzle
Here Victory uses two fine misting nozzles and one flat fan nozzle in order to achieve effective disinfection. Honestly speaking, to obtain a good spray performance, the selection of nozzles and pumps are very important. Please refer to see our
Advices on Selection of Misting Nozzle and Pump for Sterilizing Sprayers
.
There are three major types of spray tip for Victory's sprayer:
1. 3 in 1 nozzle: one misting nozzle with 40 microns spray, one misting nozzle with 80 microns spray and one flat fan spray nozzle with 120 microns spray.
2. Single head spray tip: misting nozzle or flat nozzle mentioned above is available for the single head spray tip. The spray tip can be easy interchangeable by a special tool.

3. Nozzles with different spray performance are identified by color spots, white for flat nozzle, while red for finest spray with smallest flow rate and green for fine mist with relatively bigger flow rate.
II. EMist backpack sprayers.
Emist, based in Texas, was found on a legacy of electrostatic science and technology, manufactures several types of electrostatic sprayers, as well as the accessories. Their EX-7000 is a high impact and better performance electrostatic backpack sprayer. It only weights 8.1 pounds bare and only 14.9 pounds fully loaded.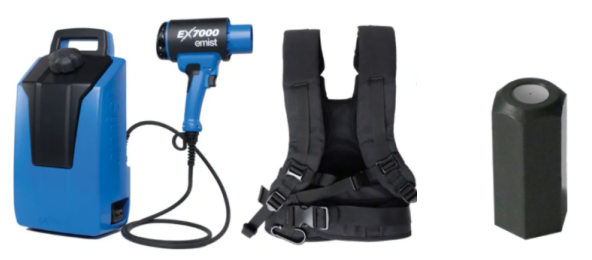 Features:
a) 14.4V Lithium-Ion battery and 14V charger.
b) Fine misting nozzle applied.
c) 0.82 gallon tank capacity, compatible with any water soluble.
d) Hydroelectric Cord with convenient wand hook hangers.
Advantages:
a) High-touch coverage of 44,300 sq.ft.
b) Light weight of 14.9bs, easy for handling.
c) Grounding not required, cordless and any water soluble available makes it easy to operate.
Features of the Nozzle
Again, fine misting nozzle is very practical and widely used in backpack disinfecting equipment due to its ability of generating very fine mist in a long run. The droplet size of the disinfectant is quite important in practice. Please refer to The Effect of Droplet Size in Disinfecting Application.
Emist use a fine mist nozzle to produce small particles. The hex plastic housing of the mist nozzle can be easily assembling and dismantle. Generally speaking, if the spray particles are smaller, the mist is softer and the spray distance is shorter, therefore smaller coverage for the sprayer. The Emist sprayer have the larger coverage compared with other brands due to the inbuilt turbo fan in the spray gun. The wind generated by the turbo fan can push the mist farther.
III. EISolutions backpack sprayers.
EISolution, established in 1974, is an US company headquartered in Tulsa, Oklahoma, with a 35,000+ sq. ft. production facility, who delivers creative solutions for electrostatic sprayer systems, electric motors, custom controls, and customized electrical buildings. Their EISX100 electrostatic sprayer is a powerful one with the tank capacity of 4.2 gallons and fully loaded weight of 53 pounds.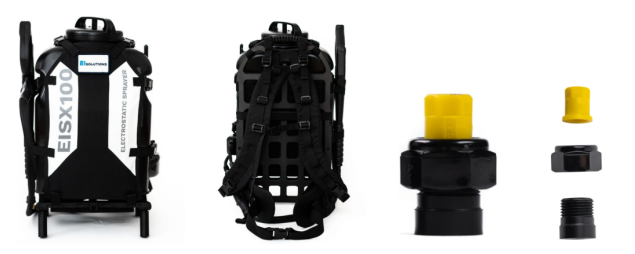 Features:
a) Rechargeable 20v power tool style lithium ion battery.
b) Very fine misting nozzle generates droplets as small as 40 microns.
c) Large tank capacity of 4.3 gallons.
d) Compatible with any chemicals.
Advantages:
a) High coverage up to 70,000 sq. f, long lasting working time up to 6 hours.
b) Easy-to-use design, easy to change the accessories.
c) Powerful and durable, provides better 360 coverage.
d) 75% cost savings when compared to buying traditional disinfectants.
e) 90% cost savings on labor
Features of the Nozzle
EIsolution does upgrade the sprayer tips/nozzles to increase atomization of the fluid, providing an evenly distributed application. They offer multiple customized nozzle options to meet the customer's specific needs as follows:
1. Single head spray tip with different mist nozzle
The different spray tips are identified by body color.
Blue Single Tip – Extremely Fine Mist
White Single Tip - Very Fine Mist
Yellow Single Tip - Fine Mist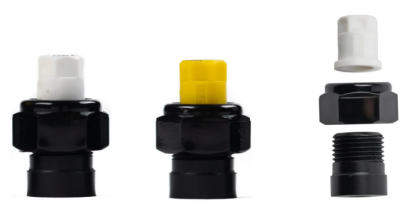 Each type of nozzle have three pieces structure, which consist of tip holder, locking nut and spray tip. The spray tip can be interchangeable
2. Brass Triple Tip - Fogger Nozzle
For higher pressures, triple nozzle spray tips are available for finest spray with much denser mist. But from our point of view, the brass body is not good for corrosion resistance since the corrosiveness of most disinfectant.
3. Spray lance with several spray tips
The multi-nozzles spray lance can provide the largest coverage and highest disinfection efficiency. The nozzles used for the spray lance are the mist nozzles mentioned in type 1.
This is quite brilliant actually. With this move, they did maximize the use of the nozzles to achieve the best performance for all kinds of customers anywhere they need.
IV. Clorox backpack sprayers
As we all know the Clorox company is a leading manufacturer and marketer who owns a number of well-known household and professional brands across a wide variety of products in US or even globally. They specialize in making disinfectant originally. Their total 360® propack electrostatic sprayer is quite a nice item as well.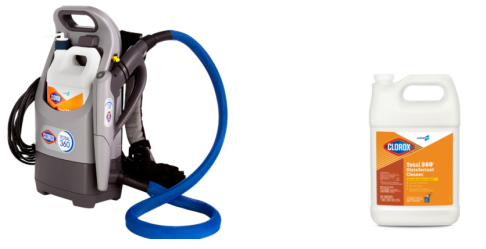 Features & Advances:
a) 1 gallon tank capacity.
b) Coverage up to 18,000 ft2/hour.
c) The lightweight, ergonomic design provides mobility and flexibility for the users.
d) Time and Labor saving.
Most of the importance, the Clorox backpack sprayers need to be used with their own disinfectant cleaner. Just like the two sides of a coin, it is a kind of exclusive sprayer which is not compatible with other brand disinfectant, meanwhile, it is very convenient for the Clorox's sprayer to recharge the disinfectant, the user can easily upload or download disinfectant container to complete it.
Features of the Nozzle
The Clorox's sprayer use the two fluid nozzle for atomization, which need compressed air to produce fine mist. Generally speaking, the air atomizing nozzles have better spray performance compared with single fluid nozzles, smaller droplets, more uniform mist. The disadvantage of the pneumatic nozzle is the compressed air supply, in-built air compressor in sprayer or external connection of compressed air in needed.
V. Ryobi backpack sprayers
As one of the world's largest and most innovative power tool and outdoor product manufacturers, RYOBI specializes in making pro-featured power equipment truly affordable. It is also one of TTI brands. Its 18V ONE+ electrostatic sprayer is widely used for household after the breakout.

Features & Advantages:
a) 1 gallon tank capacity.
b) 18 V Lithium-Ion battery.
c) 3 in 1 nozzle adjustable.
d) Light weight and economic. Ideal for household.
e) Easy-to-use design.
Features of the Nozzle
Ryobi backpack sprayer comes with 3 in 1 adjustable nozzles, which allows you to choose from multiple spray patterns. The user can get three different functional modes when twisting the nozzle to select between Low, Medium, and High.
1. The low setting sprays 65 microns with smallest flow rate. The soft mist has good dispersion and ability of adhesion, suitable for disinfection for indoor applications.
2. The medium setting sprays 85 microns with medium flow rate. The stronger mist has longer spray distance and bigger flow rate, therefore better wind resistance, suitable for disinfection for semi open areas, such as library, shopping mall, waiting hall, etc.
The high setting sprays 180 microns. The strong mist has longest spray distance and biggest flow rate, therefore best wind resistance, suitable for outdoor applications.
Nozzles available in stainless steel and brass, ideal for use with water soluble disinfectants, cleaning solutions, deodorizers.
We have introduced quite some items of the electrostatic backpack sprayers. Hopefully you will get a picture of your perfect items. Below is a comparison chart for your information.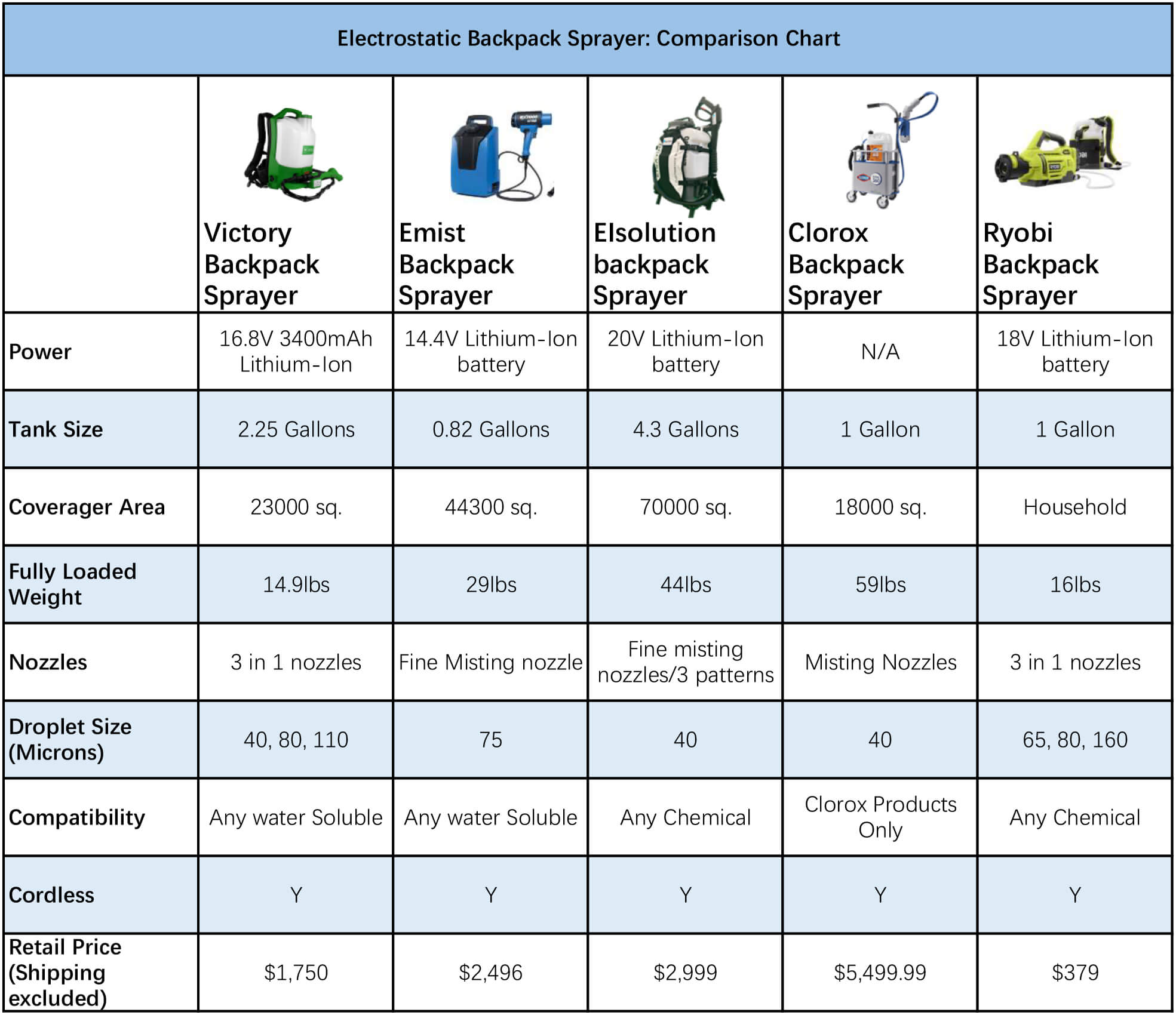 Spray nozzles
are the key executive component for the disinfection and sanitizing devices, Mistec have rich experience in design and produce all kinds of spray nozzle and we are happy to share it with our customers. If any questions about the nozzle, please do not hesitate to contact us.